こんにちは!私達奈良学生ガイドはこの度ホームページをリニューアルいたしまして、それに伴い
ブログも心機一転することになりました!以下のURLから奈良学生ガイドのホームページに
とんでいただければホームページ内にブログのコーナーもあるので、是非読んでください(^-^)
Hello. We opened up our new homepage and you can see our latest postings from the URL below.
Hello! I'm Yuki☆
I am still a trainee of Nara student guide.
I'm going to write about my first training guide.
I prepared much time for the day. I was very nerves but work hard to do my best.
I was hunting Canadian brothers in front of Kofukuji temple.
We went to Kohukuji-temple, Yoshiki-garden and Todaiji-temple.
It was so hot, we ate ice cream and shaved ice. We had a great time.
I think I couldn't guide well, but they listened my explanation warmly.
I thought that want to be a good guide strongly. I'll never forget this day.
Thank you.
Hi! I'm Mika.
Now it's really hot in Nara and the best season for "kakigōri"( shaved ice topped with flavored syrup) is here. There are many famous " kakigōri" shops in Nara so why don't you visit Nara and try "kakigōri"?
I'm writing about my recent guide.
I guided a couple from UK. We visited Kofukuji-temple, Todaiji-temple, Kasuga-shrine and Naramachi.
After that we went to a café and ate "deer parfait" that a parfait is topped with a deer shaped cookie. We enjoyed talking and Nara's sweets.
I had a great time with them and I hope we'll see each other again in Japan or Britain!
Thank you.
Mika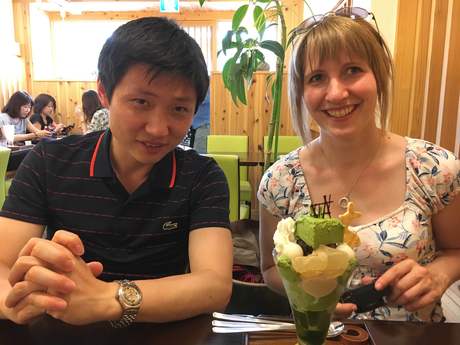 THIS IS
S
U
M
M
E
R
!

I got sweat while walking and needed much water, and also shaven ice was great! I think I got tanned:D
Konnichiwa, I'm Ayako.
Today I guided two good couples from the USA to Kofukuji Temple,Todaiji Temple, Kasuga Grand Shrine.
They have been friends since they met in an university.
I think it must be very fun to travel with both friends and partners.
They told me not only funny points of the US, but also the current situations on politics, society, problems which happens now. It was very interesting to hear that from them, not from a news on TV.
Guiding tourists enables me to hear their REAL voice about the world's news we see in the mass media.
I had a fun time with them even if it was very hot day:)
Thank you so much,have a safe trip!
Ayako
Hello
I am Hiroki, this is my first post.
Today I guided for tourists from India. We went to Toudaiji temple and Kasuga shrine. They didn't have plenty time to travel around Nara park, but we had great time to enjoy in both of them. And then they left Nara and went to Osaka. I really wanted to go there and enjoy together.
I was very happy to be said "Thank you" when I finished guiding. I will make efforts to give much nicer hospitality to tourists.
Thank you for reading(^--^)
こんにちは!
 本日が初めての投稿になります、北側裕貴です。
 本日はインドからのツーリストさんをガイドしました。東大寺と春日大社に行きました。ツーリストさんはあまり時間がなかったみたいで、ガイド自体はあまり長くなかったのですが、すばらしい時間をすごすことができました。その後、大阪へ行かれました。一緒に行きたかったです(笑)
 ガイド終わりに、「ありがとう」と言ってもらえると、やはり嬉しいですね! もっとツーリストさんに楽しんでもらえるよう、努力していきます。
 ありがとうございました。
 Hiroki